Hello and Happy Holidays!
Oh I love this little game..it's easy just think of what you would put here for your favorite Holiday things,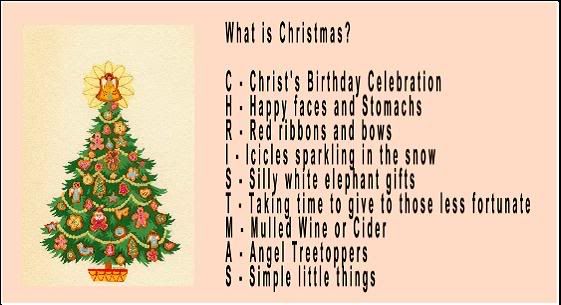 I'm including this little sentiment in my Christmast cards this year!
Christmas :
C- Christ's birthday celebration
H- Happy faces and stomaches
R- Red ribbons and bows
I- Icicles sparkling in the snow
S- Silly white elephant gifts
T- Taking time to give to those less fortunate
M- Mulled Wine or Cider
A- Angel treetoppers
S- Simple little things
I have the Serenity Gate blog to thank for this entry! Please visit Barbara at:
http://theserenityroom.blogspot.com/2008/12/c-is-for.html
The Christmas music is great too...and leave me your words!