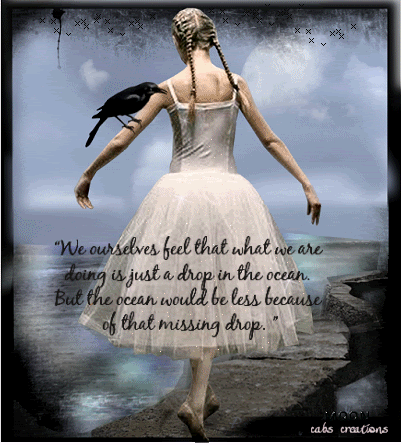 We all make a difference! Graphic by Chris:
http://cabscreationschatter.blogspot.com/
Thinking better is always a good goal. If you would like some tips on this check out this intro to the Positivity Blog:
Article by
Henrik Edberg
. Follow me on
Twitter
.
"Did you ever stop to think, and forget to start again?" Winnie the Pooh
"The world we have created is a product of our thinking; it cannot be changed without changing our thinking." Albert Einstein
When I was younger I used to think that thinking was the best thing since sliced bread. So I thought. And though and thought. And then I thought some more. It had some wonderful and positive effects such as helping me to get good grades in school.
But on the other hand this thinking was also trapping me and limiting me in various ways. One of my biggest insights in recent years is that there are a lot of both positive and negative sides to how you think. So learning to use my thinking in a better way has become a main focus and also one of the most beneficial things I have ever done.
Now, this may sound a little vague so I let's explore some of the facets of thinking with the timeless help from clever people that have gone before us.
1. You are what you think.
"As you think, so shall you become." Bruce Lee
This is not a fairy tale! I promise...special thanks to my sister and mom for the garden fairy. :)